Coco De Mal, Angela Allison - Double Date (2018) HD 1080p
30-08-2018, 07:30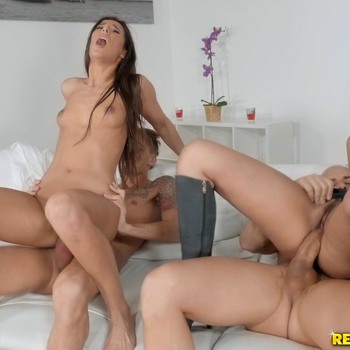 Год производства:
2018
Название ролика:
Double Date
Жанр:
All Sex, Oral sex ,Orgy,Lesbo
В ролях:
Coco De Mal, Angela Allison
Продолжительность:
49 min 9 s
Подсайт и сайт:
Euro Sex Parties
Описание:
Angela and Coco are all dressed up and ready to go out for a night of dancing. All that's missing is their dates! As the sexy Euro babes compliment each other's outfits, hairstyles, and curvy bodies, they decide to have some fun together while they wait for their guys. When Christian and Chris finally arrive, they're stunned to see cute Coco with her face buried in Angela's pussy! The nasty sluts beckon for their guys to join them, and Chris is happy to take over on Angela's pussy as Christian gives Coco's clit some much-needed tongue action! After the babes slobber all over their dicks, the guys give them the fucking they've been waiting for. Cock-hungry Coco ends up with a double mouthful of cum, but she's happy to share with Allison. Sometimes the best double dates aren't going out but staying in!
Тип видео
: HD
Формат видео
: MP4
Показать / Скрыть текст
Скриншоты:
Загрузил:
sergej10
(30 августа 2018 07:26) |
Взяли: 358 | Размер: 3.51 Gb | Последняя активность: 18 января 2019 00:10
Раздают:
0
Качают:
0
Скачали:
147
Мультитрекер
Раздают:
0
Качают:
0
Скачали:
0
Ещё не благодарили
Рейтинг:
- Комментариев: 0
Просмотров: 1370
Перейти на главную страницу
Информация
Посетители, находящиеся в группе Гости, не могут оставлять комментарии к данной публикации.