Isabella Nice - Petite Cum Slut is Machine Fucked Real Nice with a Touch of Bondage! (2018) HD 720p
30-08-2018, 07:15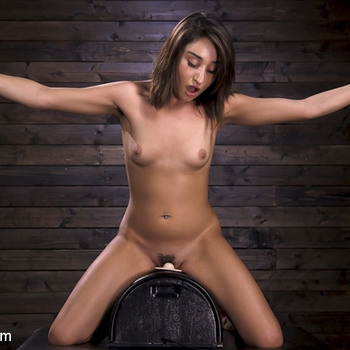 Год производства:
2018
Название ролика:
Petite Cum Slut is Machine Fucked Real Nice with a Touch of Bondage!
Жанр:
Hardcore , Fetish
В ролях:
Isabella Nice
Продолжительность:
30 min 29 s
Подсайт и сайт:
Fucking Machines
Описание:
There has been a lot of talk about this new girl named Isabella. I've heard that she was tough, down for almost anything, and loved to fuck. She is really new though, so I had some reservations about her. These machines are not for everyone, but I decided to give this new girl a chance. All I can say is, holy fuck!! This girl is awesome and truly lives up to what I've heard about her, which is a nice thing. She does her strip tease and suddenly looks up and there is a sybian and some leather cuffs secured to wooden columns. Wait minute... are we going to have a little bondage on Fucking Machines again? It looks that way, and it seems to be a very welcomed thing for our new girl. She smiles as she slides her wrists into the restraints now that she is perched atop the sybian. She is locked in and the fun begins as we slowly turn up the intensity until her teeth chatter from the vibrations. After that we put her through the paces and fuck her pussy as hard as we can until we are sure that she is totally satisfied. If you guys like seeing bondage included in some of the updates, please let us know in the comment section.
Тип видео
: HD
Формат видео
: MP4
Показать / Скрыть текст
Скриншоты:
Загрузил:
sergej10
(30 августа 2018 07:16) |
Взяли: 320 | Размер: 1.09 Gb | Последняя активность: 16 января 2019 10:57
Раздают:
1
Качают:
0
Скачали:
140
Мультитрекер
Раздают:
0
Качают:
0
Скачали:
0
Ещё не благодарили
Рейтинг:
- Комментариев: 0
Просмотров: 1586
Перейти на главную страницу
Информация
Посетители, находящиеся в группе Гости, не могут оставлять комментарии к данной публикации.